Here at GK Home Watch, we know how important home security is and want to share the latest news with you. Smart home security apps are becoming more popular. However, as handy as these apps are.. they have a lot of bugs. Let a professional human keep your home under watchful eye.
FOR FULL ARTICLE AND CREDITS: click here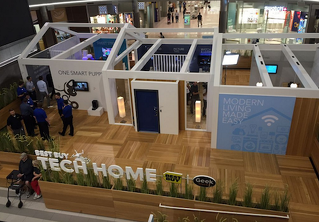 Best Buy Tech Home of the Future ~ shared by your Naples Home Watch
Best Buy and North Point Mall have paired up for an exciting project new to the Atlanta market. Together, they're creating Best Buy's TECH HOME presented by Samsung SmartThings, a structure with multiple rooms that showcases the possibilities that come with a Smart Home and the Internet of Things. Visitors will be able to view hands-on experiences to understand how a Smart Home works – walk through the "connected" kitchen, living room, office and bedroom, in addition to the latest in smart home security, wearable products, drones and virtual reality.
The Best Buy Tech Home features an in-depth look at how with just a WiFi network and Samsung SmartThings Hub, consumers can easily set up their own smart home to connect devices like motion and water sensors, smart appliances, smart lighting system and more for peace of mind, a safe environment and more time for fun. The Best Buy Tech Home debuted at the Mall of America in Minneapolis in August.
Best Buy's Tech Home, presented by Samsung SmartThings features the possibilities of today's Smart Home. It will connect the living room to the kitchen to the office to showcase a series of scenarios with a selection of the most innovative products available.
Best Buy's Tech Home features the latest products from top tech companies including presenting sponsor Samsung SmartThings, NETGEAR, Canon, Philips Hue, Qualcomm Technologies, Inc., and others. Chandler Construction, Inc. (Afton, MN) designed and built Tech Home. The Tech Home runs through Oct. 14 during regular North Point Mall hours.